Health and Safety Policy
Health and Safety Policy Statement
Liberata is a business process innovation company that helps customers reinvent complex services, transactions and processing. As a leading provider of services in this field, Liberata places health and safety at the forefront of its commercial activities. We are committed to the prevention of work related
injury and ill health and the provision of a safe and healthy working environment for the benefit of employees and other interested parties.
To achieve this Liberata:
Comply with and aims to exceed legislative requirements
Effectively control significant health and safety risks
Develop systems that support safe working practices and the effective organisation of health and safety within a dynamic work environment
provide appropriate health and safety information and training commensurate with employee roles and responsibilities
set health and safety objectives and monitors their achievement
actively support open communication and participation in safety matters at all levels
promote the wellbeing of Liberata employees by providing a supportive working environment and opportunities for individuals to improve their own health and wellbeing
work collaboratively with clients and business partners to achieve the highest standards of health and safety within each organisation
adopt a proactive approach to safety that recognises the value of teamwork and innovation
Seek to encourage best practice and continually improve safety performance
All Liberata employees have a personal responsibility to act in a safe manner and to cooperate
with Liberata on health and safety matters at all times.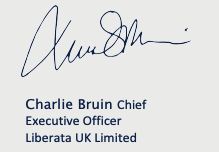 To obtain a full copy of our Health and Safety Policy document or for further information please contact sue.cranstoun@liberata.com
Please don't hesitate to contact us if you require any further information.
Email us at: sue.cranstoun@liberata.com
or visit our website at: www.liberata.com