Join Our Team
Our people strive to help organisations succeed in creating value and growing in confidence. We both encourage and reward initiative, as our people continue to grow and achieve their full potential.
At Liberata we work together as a team, ensuring to keep our customers at the centre of everything we do. We strive to deliver inspiring outcomes for our clients, captured in our company values of Expert, Accessible and Dependable.
If you are looking for a career with opportunities, Liberata would like to hear from you. Liberata will provide the tools, support and opportunities for you to discover and develop your strengths, enabling you to thrive in the workplace.
Working at Liberata
At Liberata, our people are our most important asset; they are the driving force behind our success and we are committed to creating a great place to work.
Living our values
At Liberata we recognise that the right culture is crucial to our success and influences how we work together. Our values of Expert, Accessible, and Dependable shape our culture, guiding decision making and actions at every level and provide a framework to influence the way in which we work together and with our clients. We use our values to guide decisions, recruit people and manage performance.
Equality, diversity and inclusion at Liberata
We are committed to achieving and promoting equality of opportunity within the working environment; Liberata focuses on attracting and retaining employees from different backgrounds which in turn helps to build a diverse and inclusive community where people can reach their full potential and thrive at work.
Liberata believes that employing a diverse workforce can draw strength from the variety of talent and different perspectives employees bring to their roles. We believe that diversity can also improve an organisations level of adaptability and strengthen our ability to provide excellent services to diverse audiences. To support these objectives Liberata has formed an overarching National Equality and Diversity Group, LibED, to promote diversity at work and raise awareness throughout the organisation.
Employee benefits
Liberata will provide the opportunity for you to develop your skills and experience with a leading supplier of services and software to public and private organisations across the UK, along with a competitive salary and great benefits to include:
Professional development opportunities and support towards gaining professional qualifications
25 days holiday per annum, plus bank holidays
Life assurance which is equivalent to 4 times annual salary
Defined contributory pension scheme; employees can contribute up to 6% and the company will match the contribution to a maximum of 6%
To enhance our employee benefits, we have a reward scheme for all Liberata employees, using a gateway called 'Look Inside'. Here employees can access a wide range of benefits, rewards and discounts
Access to employee wellbeing initiatives
Employee assistance programme
Company sick pay
Occupational health advice and support
Free eye tests
Free annual flu jab
Family friendly policies
Flexible working options
Recommend a friend recruitment referral scheme
Health and wellbeing
We are committed to the health and wellbeing of our people; Liberata has a long term programme to engage with and support our people to improve their physical, mental and financial wellbeing. We do this by providing
Access to comprehensive occupational health and wellbeing services
An extensive health and wellbeing programme including: campaigns, workshops and events
Access to online learning tools and resources covering holistic wellbeing
Monthly Health and Wellbeing Newsletter
An Employee Assistance Programme available 24 hours a day for employees and their families
Community
We believe in giving back and supporting the communities within which we live and work. We have a Charity Committee made up of representatives from across the business which aims to support charitable organisations within our local communities and other good causes suggested by our employees.
Environment
We recognise the importance of sustainability and good environmental practices within our business. We are currently working towards ISO 14001 accreditation and encourage all our employees to play their part.
Get in touch
We're always on the lookout for new people so if you're not afraid to think differently, enjoy working in a high-energy environment and are passionate about generating customer results, then apply to join us.
Liberata is a disability-confident employer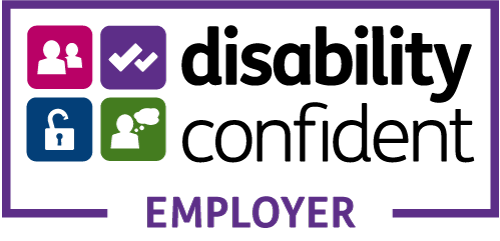 If you require any reasonable adjustment during the recruitment process, please contact us to discuss your personal circumstances via recruitment@liberata.com.