Finance and Accounting
We offer a full range of Finance and Accounting services across both the public and commercial sectors.
Financial and Management Accounting

Incorparting a range of fully managed services:
• Accounts Preparation - Statutory accounts preparation, Compliance with recognised accounting standards, Tax returns
• Budgets and Forecasts - Preparation of budgets and forecasts, Weekly/Monthly budget monitoring information for the Management Team and Directors
• Management Accounts and Reporting - Preparation of monthly management accounts: including P&L, balance sheet, cashflow statement, Monthly close process, Variance reports, Management information reports and dashboards, Bespoke reporting, Key Performance Indicators
• Accounting - Preparation and management of chart of accounts/cost centre structures, Asset register, Manage accounting/journal entries, Payroll accounting, Intercompany accounting, Audits
• Tax - VAT returns, VAT control accounts, Tax advice
Accounts Payable

We offer a fully managed, scalable and efficient accounts payable service including:
• Invoice Processing - Providing a rapid and accurate transactional service. We process over 2 million invoices annually
• Supplier Management - On-boarding of new suppliers and ongoing working with suppliers to ensure accurate and timely payments
• Supplier Statement Reconciliation - Validating and reconciling supplier statements to ensure that ledgers are accurate
• Supplier Payments - Delivering on-time supplier payments as part of the core service or as a resilience function
Accounts Recievable

Our fully managed, scalable and efficient accounts receivable service includes:
• Billing - Providing the end to end billing function. We bill over £4 billion annually
• Account Management - Ensuring rapid setup and ongoing management of client and customer accounts, timely billing and robust cashflow
• Recovery, Credit Control & Enforcement - Providing the full debt recovery solution for invoices that exceed payment terms, using our links with the
UK's most effective enforcement agencies
• Debtor Support - Supporting vulnerable customers
Banking and Treasury Management

We offer a fully managed, scalable and efficient banking and treasury management service including:
• Management of Credit / Purchasing Cards - Manage card supplier/s, User set up and amendments, Monitor and manage card limits/spending rules, upload information to General Ledger, Reconciliations
• Direct Debit / Standing Order Management - Set up and amendment of instructions, Monitor and manage invoices and payments, Reconciliations
• Bank Reconciliations - Manage relationship with the bank, Undertake continuous reconciliations of all bank accounts, Automated solution
• Payments - Routine and emergency payments: Bacs, Faster payments, CHAPS, Inter-account transfers, Foreign payments, Cheques, Cards, Third party distributions, funding and other disbursements, Manage authorisations and controls, Meet agreed SLAs and Prompt Payment Rules
• Bacs Bureau - Facilitate ongoing payments and collections, Submission of Bacs files, Controls and segregation of duties, Testing, Accredited Bureau
Expenses

We offer a fully managed, scalable and efficient expenses service including:
• Audit Staff Expenses - Best practice auditing, Full or random sample auditing, Match and validate receipts, Focus on tax sensitive and larger amounts where appropriate
• Expenses Payments - Pay employees in line with policy, Timely and reliable service
Accounting System Selection

We offer a fully managed, scalable and efficient accounting system selection service including:
• Agreement of Key Requirements - Key functional requirements, Budget
• Request for Proposal (RFP) / Supplier Assessment - Manage RFP process, Shortlisting of candidate systems
• Evaluation and Selection - Functionality assessment, Value for money assessment, IT and information governance evaluation, Due diligence and contract assessment
Accounting System Implementation

We offer a fully managed, scalable and efficient accounting system implementation service including:
• Configuration - Core team training and set up, Set up company structure, Chart of accounts and cost centre structure, Set up key functions, Reporting and workflows
• Integrations - Set up integrations as required, e.g. Payroll, bank account data
• Testing - Initial data provision/migration, User testing
• Go Live - Stakeholder communication and wider user training, Final data migration, Cut over to live
Duplicate Payment Recovery Service

Our Duplicate Payment Recovery Service will help you generate positive cashflow and boost your profits. With minimal input needed from your team, we'll undertake a specialist recovery audit of your purchase ledger. Using our
latest innovations in sophisticated analytics, backed up by expert professionals, we will identify historic overpayments, duplicate invoices and unclaimed credits, and then manage the entire recovery process on your behalf. What's more all of our fees are contingent upon successful recovery of funds - no recovery, no fee!
Case Studies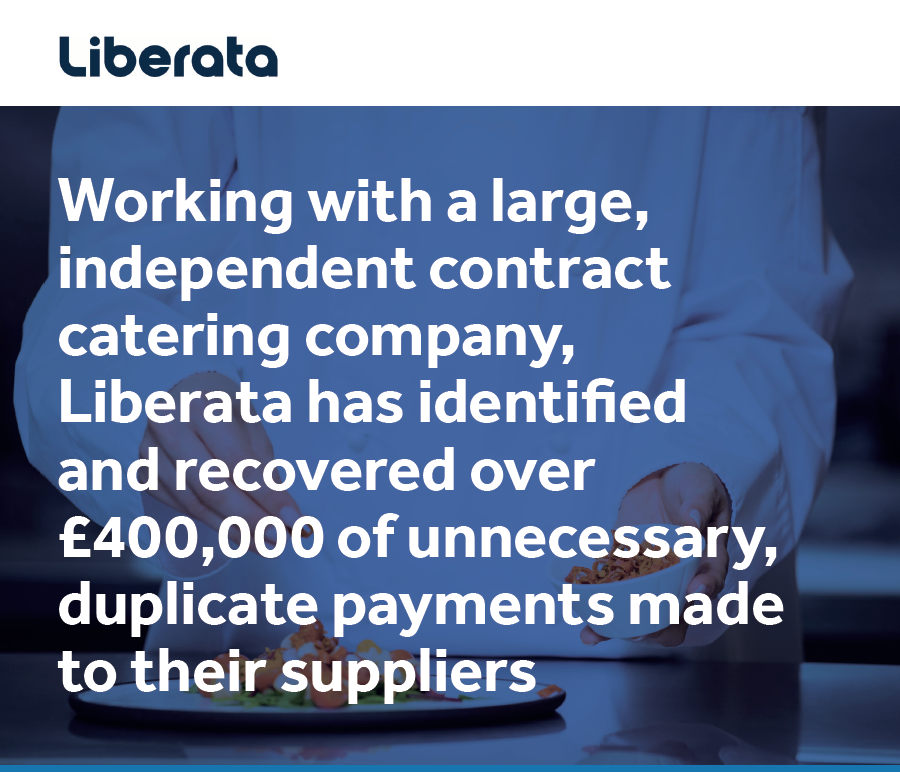 Product Sheet